Every year, Pantone announces a new color that they believe will be on trend in the coming year. For 2016, the colors are Rose Quartz & Serenity.
Serenity blue is the color of inner balance and peace. Inspired by nature, mental clarity, and reflection, it is a tranquil blue that conveys the healing spirit of water.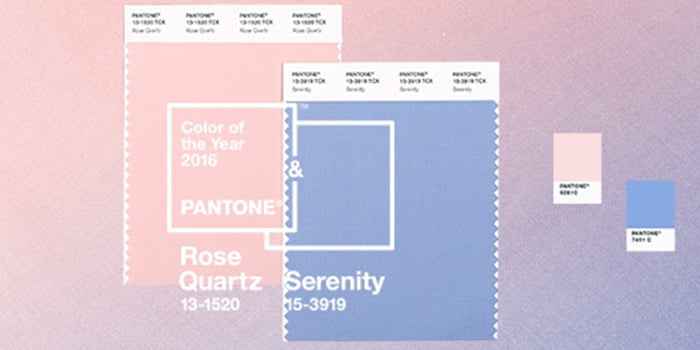 Bold and brave, Rose Quartz provides emotional balance for those who are often "too much." This tone of nurturing love is inspired by the abundance and energy of the universal life force. This color resonates with all human emotions, connecting the physical and spiritual planes.
Combining the calming Serenity of blue with the nurturing rose quartz, Pantone's 2016 Color of the Year is a harmonious blend of two opposing hues that together make a balanced whole.
In addition, Serenity can also be used to brighten any space, as it adds an uplifting glow.
Rose quartz is an excellent choice for weddings. It's romantic and delicate, making it perfect for everything from invitations to centerpieces. You can even use rose quartz as your wedding color scheme! Remember to pair it with complementary colors, like green or gold, to avoid an overly feminine look.
Rose quartz exudes a radiant, angelic, feminine energy. If you have been thinking about or feeling, you need to take a break, reconnect with yourself and spend time with loved ones. This color is also called pink-in-the-roof and symbolizes perfection and love. Rose Quartz is made by mixing pale pink and white together.
When dealing with any situation, Rose Quartz brings clarity of mind and purpose. It is a great way to come to a decision and make a plan about something important in your life.
Serenity highlights the inner through its combination of nature and water. This tone of blue brings us to a quiet place, helping us maintain peace of mind and balance in our creative pursuits and daily lives. It is a tranquil color that conveys the healing spirit of water. As a vital element, Serenity helps bring harmony to inner and outer spaces.
Serenity blue brings you love and peace, helping you heal and grow. It can be used harmoniously with Rose Quartz when you want someone to understand your feelings.
Serenity blue is calming and meditative, helping you find inner peace. Serenity blue is a true blessing for those suffering from losing a loved one. This color will help you heal and move forward. A combination of cool and warm, Rose Quartz, the color of unconditional love, is great for bringing people together.
Color code: PANTONE 13-1520 Rose Quartz & PANTONE 15-3919 Serenity
Learn more about the 2016 Pantone Color of the Year: Rose Quartz & Serenity here: https://www.pantone.com/articles/past-colors-of-the-year/color-of-the-year-2016