So, finally, you get to plan your big day! But soon after you start organizing everything, you will notice that the long list of to-dos and "what ifs" may keep you stressed and anxious all the time. We understand you; wedding planning is practically a full-time job!
But don't worry, you are not alone!
Many couples go through such a whirlwind of emotions, and it is perfectly normal. Plus, you have us to support you along the way! For that reason, we have compiled a few essential tips to help you find the balance during all the wedding busyness. Read through them to find the perfect calm you need during the stressful planning process.
Take Time to Eat Well
It is essential to eat healthy meals regularly. Following a healthy diet will result in glowing, radiant skin and a flawless complexion. In addition, by eating nutritious meals packed with vitamins, you will keep your wedding stress at bay.
Create a wedding timeline and leave some cushion time
Having a well-curated planning and day-of timeline will help you organize your thoughts and course of events. Having a clear picture of which task you need to complete next – instead of doing everything chaotically, will help you stay calm.
When planning your day-of timeline, make sure to include the additional time. It will give you plenty of time to relax and enjoy with all the wedding busyness going on. Brides often don't think about the time to enjoy, and when the day goes by so quickly, they are left with no time to savor some quiet moments.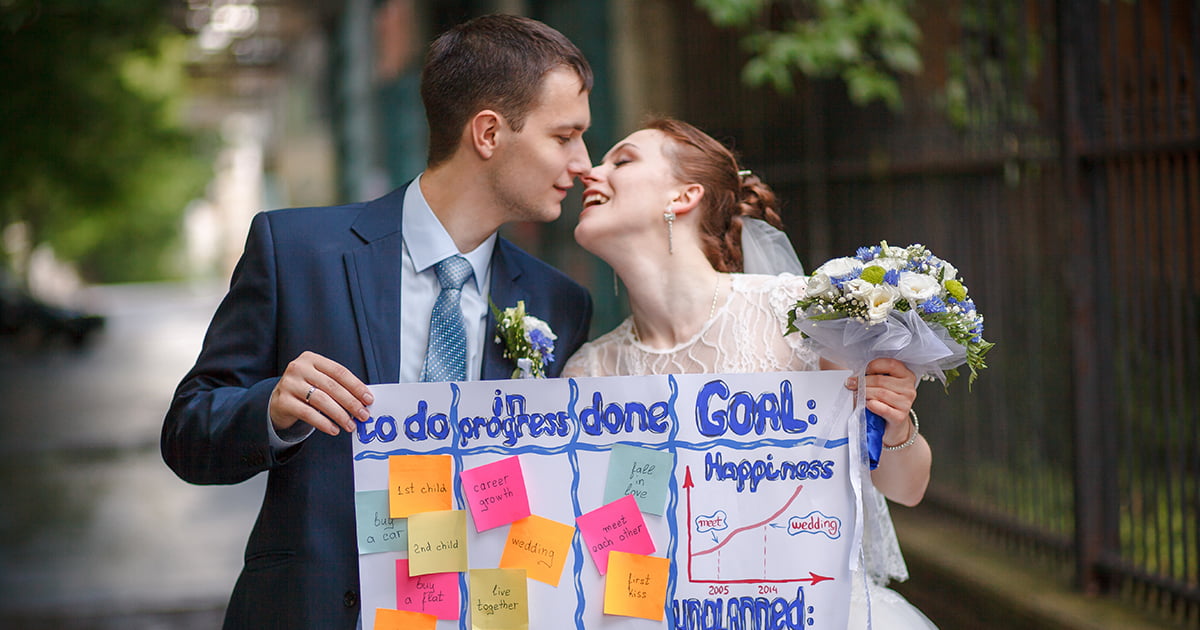 Make a pause
During your planning, make sure to take some time off and enjoy your engaged period! Go on a date, a weekend getaway, or even a fun trip. This will allow you to take a breather from all the obligations and nurture your romantic relationship.
Surround Yourself With the Right People and Book the Right Vendors
Who you surround yourself with absolutely affects your mood. Invite only those who bring out the best in you, and be with them when you are getting ready. This could be your mom, siblings, aunt, close friends, etc. Also, professionals – such as your planner, photographer, MUAH, etc; will be with you throughout the day, so make sure to book the ones you feel connected with. Communicating with your vendors throughout the wedding busyness will put your mind at ease as you know that every task is being taken care of. In this case, we recommend hiring a wedding planner who can seamlessly help you pull off everything!
Meditate Regularly
Meditation is the best way to ease out all your wedding stress and stay relaxed. So, practice it regularly so as not to let anxiety ruin your mental peace.
Remember, it's your day.
After planning for months, it's easy to forget what the day is actually about – it's about you and your partner. It becomes very easy to get trapped in every little detail of the wedding planning, and the best thing to do in such circumstances is not to sweat over the small stuff. Please focus on the two of you and know your big day is about being present in the moment and enjoying it with your partner.
Follow these tips to reduce your anxiety levels and stay calm. Believe that everything will happen as you have planned – and if there are some minor mishaps, no one but you will know! We hope our tips will help you easily sail through the wedding busyness and have a joyous celebration!
For more inspirational wedding planning ideas, read through our articles!