When planning an event or celebration, it can be stressful to try to keep up with all of the current trends and fashions. Luckily, the design company Pantone provides a shortcut through this worry with its Color of the Year.
Since 2000, Pantone has chosen this color by assessing trends from the fashion, art, and graphic design world and greater cultural forces. This can instantly provide you with a base from which to draw inspiration.
Don't worry about being limited by the current year's selection because colors often stay on trend for several years.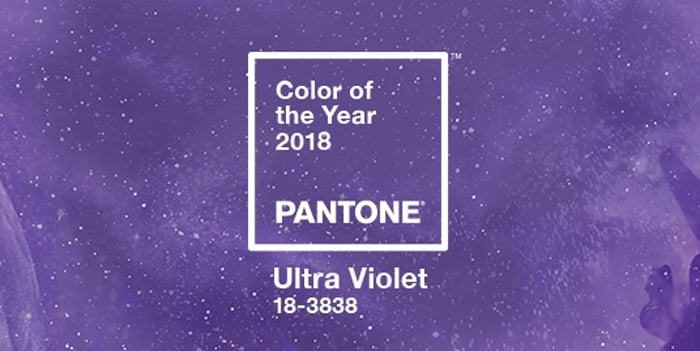 2018 Pantone Color of the Year: ULTRA VIOLET
For 2018, the Pantone Color of the Year was a blue-based purple called Ultra Violet. According to Pantone, this color is supposed to embody the optimism and search for new horizons that held sway in the cultural zeitgeist in the years before COVID lockdowns and sky-high inflation.
Leatrice Eiseman, the executive director of Pantone, put it like this: "Ultra Violet… takes our potential and awareness to a higher level… from new technologies and the greater galaxy to artistic expression and spiritual expression."
That sounds like a lot to say about color, so what does it all mean?
Essentially, Ultra Violet is a vibrant purple that is bold and filled with life but also has a cold tone that provokes deep thought. It also conveys complexity and mystery, invoking the deepest cosmos and worlds beyond our own, both real and imagined.
These deep purple colors have also long been a symbol of enigma and unconventional artistic expression, as demonstrated by artists like Prince and Jimi Hendrix, who used similar colors in their performances. The world is hungry to have that positive symbolism back in the fore.
Color Palettes to Consider Using with Ultra Violet
When it comes to using their Color of the Year winners, Pantone has plenty of suggestions. You can combine Ultra Violet with other smoky colors like lilac or soft grays to create a calm and relaxing environment.
For a more exciting look, put Ultra Violet alongside different pinks and purples and pair them with earthy hues like bronze and forest green, giving people the expectation of drama and adventure.
Dark blues and yellowish gold can bring out Ultra Violet's more reflective and thoughtful aspects. Or, you can go with a full-on springtime floral motif by displaying Ultra Violet with other pastels like hot pink and orange.
It's a versatile color that can go with many different aesthetic tastes, which is part of what made it Color of the Year.
Color code: PANTONE 18-3838
Learn more about the 2018 Pantone Color of the Year: ULTRA VIOLET here: https://www.pantone.com/articles/past-colors-of-the-year/color-of-the-year-2018