Living Coral was chosen for 2019's color of the year after being highly anticipated throughout December. The hue is derived from live coral found in our oceans worldwide.
The idea behind it was to inspire people to be inspired as it represented life-affirming emotions and memories. It reminds one of a perfectly cut salmon, beautiful sunsets or sunrise, and vibrant multicolored reefs.
2019 Pantone Color of the Year: Living Coral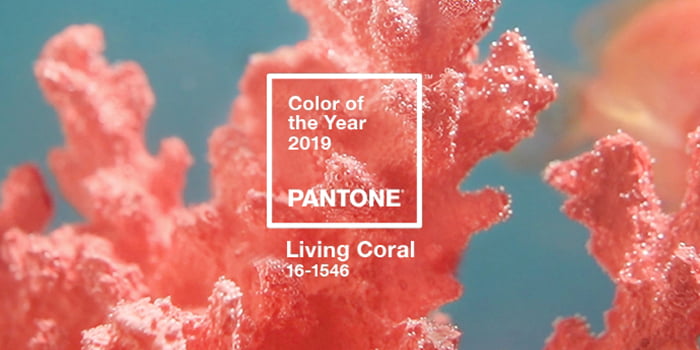 In 2018, the color chosen was "Ultraviolet." A deep and powerful color. Living coral was different since it represented a more soothing tone. The calm in the storm, a place you can relax. Think of a vacation on a sandy beach with conch shells and tropical fish. Your room transforms before your eyes as it catches that glint of the setting sun, letting your mind wander off peacefully.
Color psychology theories propose that different colors bring different reactions and feelings within us when we look at them. A color like living coral made people feel sociable, nurturing, engaging, and authentic.
Because it is one color yet provides a diverse range of emotions and thoughts, Pantone struck gold when they made Living Coral the color of the year.
Living coral is a brilliant livid color that can be used as an accent color to highlight important features. As an accent color, it directs the viewer's attention to the parts you are primarily interested in showing them. For instance, when viewing a site, it can be easy to get overwhelmed by design and not pay attention to the essential details of the page. Using accent colors focuses the user's attention on specific areas.
Even in fashion, men and women can use color to express their style by mixing it with different patterns or textures. Even as a monochrome, it would still pop and let out that shine. The color looks suitable for all skin tones, so be bold and flaunt it.
Interior designers have also taken it upon themselves to create that connection by setting up designs and decorations in different spaces. Living coral brings out that playful yet homely and welcoming spirit in large and small areas. Whether as paintings, rugs, blankets, or curtains, it gives every room a factor whenever you design with it.
Color code: PANTONE 16-1546
Learn more about the 2019 Pantone Color of the Year: Living Coral here: https://www.pantone.com/articles/past-colors-of-the-year/color-of-the-year-2019