When the famous color institute known as Pantone announces its annual "Color of the Year," people pay attention.
These experts are excellent at forecasting color trends and helping companies enhance their brand vision.
For 2021, the Pantone Color Institute has proudly chosen the shade of "Ultimate Gray," a solid hue that remains one of the world's most popular neutrals.
2021 Pantone Color of the Year: Ultimate Gray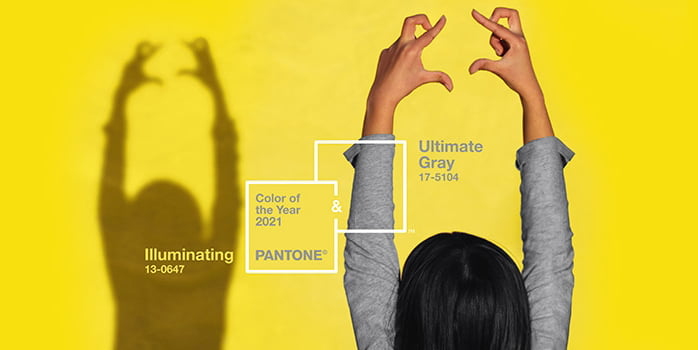 What's so special about Ultimate Gray?
CNN.com spoke with the color institute's executive director, Leatrice Eiseman, and learned that this was the first time that Pantone had chosen a neutral as a winning shade.
Eiseman summed it up by saying that the color gray symbolizes strong traits the global population needs now. These would include resilience, optimism, hope, and positivity so that everyone can reset, renew, reimagine and reinvent.
Pantone's Color of the Year helps to define what's happening in the world and the fantastic color trends reflecting fashion, beauty, design, and home decor. In 2021, this emotion of color signified composure, and Ultimate Gray delivered that feeling.
This isn't a gloomy gray. Instead, Eiseman told CNN.com that Ultimate Gray is a mid-gray hue that's versatile and reliable.
When decorating your home's interior, gray is an ideal shade for modern and traditional themes. Design professionals boast that the neutral hue blends effortlessly into every decor style and is compatible with just about every other color.
It's not like gray has just popped onto the scene. The hue has been enjoying its style moment for the past decade and continues to grace the interiors of many homes and apartments of the famous and not famous.
Fashion also takes cues from the Pantone color specialists, and Ultimate Gray offers a more contemporary, upscale, and elegant neutral option. Not only that but the shade pairs well with other neutrals as well as bolder colors.
Even beauty reflects global trends, and Ultimate Gray is a lovely accent in hair and makeup. Gray hair has been a big deal this year and will continue in 2022. Megawatt silver strands have become a glam and sexy alternative to platinum. Those who don't have naturally gray locks can still go gray with some help from glosses, tints, and dyes.
A gray manicure replaces beige and nude nails, and it's a subtle, pretty effect.
A smoky gray eye is another gorgeous beauty trend inspired by Pantone's Ultimate Gray color of the year. Gray eyeshadow is timeless.
Color code: PANTONE 17-5104
Learn more about the 2021 Pantone Color of the Year: Ultimate Gray here: https://www.pantone.com/articles/past-colors-of-the-year/color-of-the-year-2021