Weddings are a time for magic, and Very Peri seems tailor-made for the wedding of your dreams. As a soft periwinkle blue infused with daring violet-red undertones, Very Peri is the perfect combination of soothing and energizing. When used sparingly, Very Peri is an unforgettably bold accent. For a wedding that feels like a wonderland, feel free to fill yours with this unexpected shade.
2022 Pantone Color of the Year: Very Peri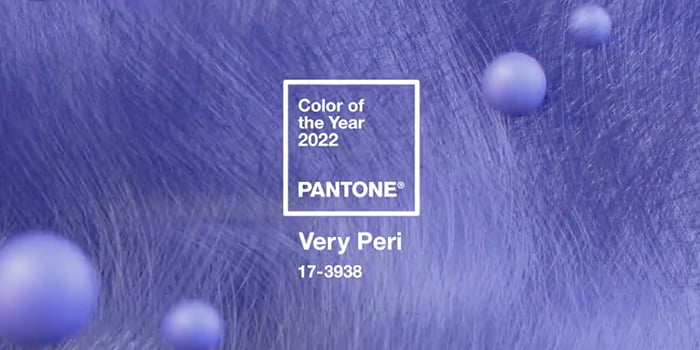 The applications for this dreamy shade of periwinkle are endless, from floral arrangements to stationery. When it comes to wedding décor, you can integrate Very Peri within table settings, floral arrangements, atmospheric lighting, balloons, and backdrops. Although fresh flowers are not likely to come in Pantone 17-3938 TCX, you can use a wide variety of purple flowers to coordinate with your other Very Peri décor.
Embrace Your Inner Fairytale Princess with Very Peri Pantone's Color of the Year 2022
Very Peri's dreamy personality easily transcends exclusive use in décor. Imagine a wedding cake or dessert bar suffused with this color powerhouse. Because of its versatile nature, Very Peri also looks great when used in your wedding wardrobe. A few options are bridesmaid dresses, shoes, jewelry, hair accessories, nails, ties, and, for brave brides, even wedding gowns.
One of the best things about this color is how multifaceted it is. Very Peri pairs well with warm and cool neutrals, including inviting cream tones and soothing gray hues. For a soft, pastel feel, incorporate it with a palette filled with muted purples and gentle blushes. Alternatively, to achieve a more dramatic effect, treat it like a jewel tone and combine it with intense pinks and opulent metallics.
Build a Timeless Wedding with Pantone's 2022 Color of the Year: Veri Peri
Of course, Very Peri can go beyond a traditional color palette to create a wedding with an astonishing atmosphere. If you have always dreamed about a glamorous fairytale feel, break out draped Very Peri fabric, twinkling lights, and plenty of gold accents. Alternatively, you can draw inspiration from nature's magnificence. Choose colors like soft reds, glowing oranges, and vibrant yellows to accompany Very Peri for a wedding decorated in all the splendor of a sunset.
Every bride and every wedding is unique. Although Very Peri is the Pantone Color Institute's color of the year for 2022, there is no single correct way to use it in your wedding. Whether the wedding of your dreams is earthy or glamorous, Very Peri harmonizes with a wide range of colors for a wedding you will be able to cherish forever.
Color code: PANTONE 17-3938 Very Peri
Learn more about the 2022 Pantone Color of the Year: Very Peri here: https://www.pantone.com/color-of-the-year-2022